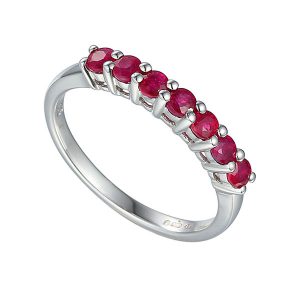 16 Jun

Ruby – Birthstone for July
Ruby
Ruby is the birthstone for July and the gemstone of the 40th wedding anniversary.   Rubies are graded using criteria known as the four Cs, namely colour, cut, clarity and carat weight.  Colour is the most significant factor affecting the value of a ruby,  The finest ruby has a pure, vibrant red to slightly purplish red color.  As the saturation of the colour diminishes the value reduces.  Ruby takes it's name from the Latin name for red, which is 'ruber.'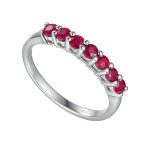 The largest producer of rubies for the last two hundred years has been Burma.  Rubies have been found in various countries around the world including Thailand,  Afghanistan, Tanzania,  Madagascar, Greenland,  Nepal, Vietnam, Kenya, and Mozambique.  Rubies have also been found in the state of  Montana in the U.S.A.
Ruby traditionally represents romance and devotion, as such many consider it an excellent choice for an engagement ring.  Ruby was considered the stone of love, energy, passion and power.
There are many famous rubies and famous fans of the blood red gemstone.  A ruby known as the Sunrise Ruby set a new gemstone auction record  in 2015, when a Swiss buyer paid $30 million for the red gemstone. It is a 25.59 carat, cushion cut, untreated "pigeon blood" red Burmese ruby, which is set into a Cartier ring and flanked by  white diamonds.  Elizabeth Taylor was a lover of rubies.  She was given stunning ruby pieces by both Mike Todd her second husband and Richard Burton.
Visit us in Kay Street, Rawtenstall or call us and speak to one of our experienced team to discover more about the ruby jewellery we have to offer from our stock.
Due to the long term relationships we have developed with some of the top gem stone suppliers in U,K.we are able to obtain rubies and other loose gemstones for our customers. For a truly unique piece of  ruby jewellery consider the commissioning of a bespoke piece – designed and created in our own on-site workshop in the heart of Lancashire.